Recipes
Easy Black Bean Chilli (Vegan & GF?
Easy Black Bean Chilli (Vegan & GF)
2 tbsp oil (sunflower or coconut)
1/3 cup white onions, diced
2 garlic cloves, minced
2 x 400g cans of black beans, drained
400g can of chopped tomatoes
1/4 cup vegetable stock
2 tsp hot chilli powder
1 tsp sweet smoked paprika
1/4 tsp cumin
How to make Easy Black Bean Chilli (Vegan & GF)
1. Put the oil in a large saucepan and heat the hob to a very low heat.
2. Sweat the onions for about 8 minutes, you want them to look soft and translucent, and add the garlic and continue to sweat for a few more minutes. Stir the onions quite regularly.
3. Increase to the heat from very low to low heat. Then mix in the black beans, chopped tomatoes, vegetable stock, chili powder, paprika, and cumin. Simmer for about 10 minutes.
4. Serve with any combination of things – tortilla chips, rice, potato/ sweet potato mash or wedges, homemade guacamole, salsa, dairy-free sour cream. Garnish with cilantro if desired.
I hope you give this easy black bean chilli a try! And if you do, be sure to tag the picture #AVogelRecipes on Instagram so we can see 🙂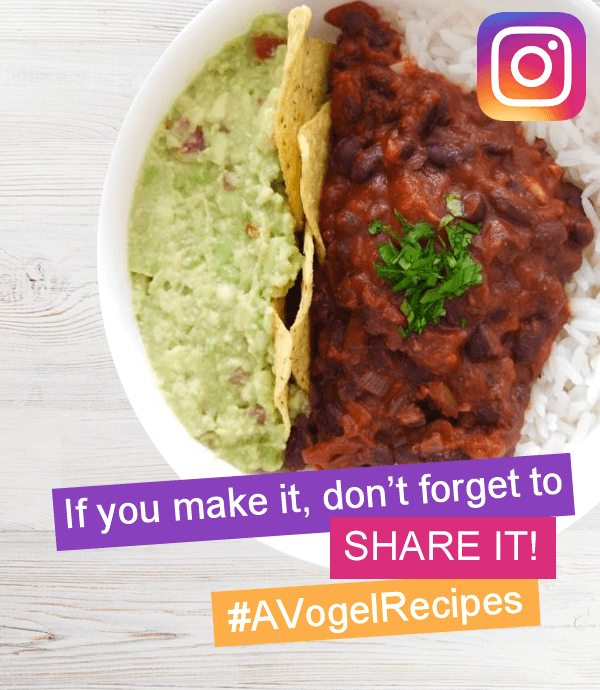 This recipe is full of goodness
High in protein
Good source of fibre
Packed with vitamins & minerals
With their high protein content, pulses such as black beans, kidney beans, adzuki beans, chickpeas and lentils are a great addition to a meat-free diet, which is why they are a favourite ingredient for many vegetarian and vegan dishes. Packed with fibre, they can also help promote good digestion, and are a good source of vitamins and minerals, such as iron, zinc and magnesium.